Introduction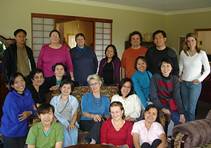 Khon Kaen University recognizes the importance of improving the health of individuals of all ages and is in the best position to contribute to the achievement of health equity. Gender roles and unequal gender relations interact with other social and economic variables, resulting in different and sometimes inequitable pattern of exposure to health risk, differential access to and utilization of health information, care and services.
For this reason the Centre for Research and Training on Gender and Women's Health (CRTGWH) has been established. CRTGWH is unique in Thailand in that it represents a critical mass of researchers and graduate students working on gender and women's health with a broad interest in both basic and applied research and training. Activities of the centre include organizing training courses in Thailand and other countries in Asia, advocating women's issues and identifying possible measures needed to upgrade the status of women and to improve their health.
Background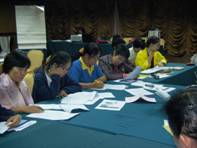 In 1996, a group of academics from the Faculty of Nursing formed the Women's Health Interest Group (WHIG). WHIG goals were to provide research on women's health, to disseminate information and to provide consultation throughout the region. Exceeding initial plans, WHIG became a mechanism to improve research capacity and clinical practice of health care providers in the area of gender and health. In order to reflect this progress, the group was renamed as the Centre for Research and Training on Gender and Women's Health

Vision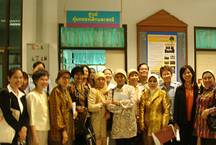 A Centre of Excellence to improve the health of women and to contribute to the achievement of health equity.
Mission
To undertake research on gender and health and to disseminate research findings.
To organize training of trainers on gender sensitivity related research methods and to develop related protocols to reduce health inequities.
To provide distance learning that promotes knowledge and tools to supports skills for engaging and networking on gender and women's health.
To develop a Gender, Women and Health Network (GWHN) among experts in the region to strengthen related research and training.
Administrative Committee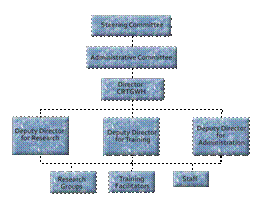 | | |
| --- | --- |
| Name | Position |
| Prof. Dr. Siripoen Chirawatkul | Director and Chairperson |
| Assoc. Prof. Dr. Somporn Rungreangkulkij | Deputy Dir. for Research |
| Assoc. Prof. Dr. Pakwilai Srisang | Deputy Dir. for Training |
| Assoc. Prof. Dr. Somporn Watananukulkiat | Deputy Dir. for Administration |
| Assoc. Prof. Dr. Wiporn Senarak | Member and Expert |
| Assoc. Prof. Dr. Darunee Jongudomkarn | Member and Expert |
| Assoc. Prof. Dr. Kritaya Sawangchareon | Member and Expert |
| Assoc. Prof. Dr. Soyj Anusornteeraku | Member and Expert |
| Assist. Prof. Dr. Sommapat Sornchai | Member and Expert |
| Assist. Prof. Dr. Nilubon Rujiraprasert | Member and Expert |
| Dr. Pornthep Praekaw | Member and Expert |
Selected Publications
Chirawatkul S., Manderson L., Rukwong, P. Pongrou P. and Chomnirat W. (2008). Perceptions and experiences of villagers living with physical disability in Isan, Thailand. Asian Journal Nursing, 11:23-9.

Misajon R. A., Pallant J. F., Manderson L. and Chirawatkul S. (2008). Measuring the impact of health problems among adults with limited mobility in Thailand: further validation of the Perceived Impact of Problem Profile, Health and Quality of Life Outcomes, 6(6):1-5.

Chirawatkul S., Rungreongkulkij S., Meenongwha J., Huttapanom W. et al. (2008). Perceptions and dealing with depression among villagers of Isaan region, Journal of Mental Health Thailand. 16(1): 229-241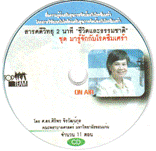 Rungreongkulkij S. (2007). The psychological impact of Buddhist counseling for women suffering from symptoms of anxiety. Archives of Psychiatric Nursing, 22(3): 127-134.
Selected Research
• Integration of Gender Issues into the National and Regional Health Policy Focusing on Depressive Disorders in Thailand (2008)
• Cultural Sensitive Technologies for Mental Health Promotion and Prevention of Depression: An Action Research in Two Provinces of Northeast Thailand (2008)
• Family Violence and Knowledge on Women's Rights of Pregnant Women (2008)
• Factors of Major Depressive Disorder in Thai Population: Gender Analysis (2008)
• Situations of Women Rights Violation in Thailand (2009).

Selected Training
• Capacity Building on Gender Sensitive Research (2008)
• Capacity Building on Gender Awareness in Health (2008)
Supports
Several support services are available to facilitate research and training at CRTGWH.

1. Rooms
Khon Kaen University provides fully equipped rooms for conferences, seminars and meetings. There are various types of rooms available including meeting rooms, class rooms and lecture theatres. A number of meeting rooms are available throughout the year, suitable for 10 and up to 3,000 delegates
2. Library services
The KKU Library system includes one Central Library and 20 faculty libraries. The Central Library has implemented a fully integrated, automated system and library users can have access to monographs, journals and other media using the Online Public Access Catalogue. The library of the Faculty of Nursing where CRTGWH is located is linked with the Central library and other library systems within the country and overseas. Updated information related to gender, women and health from throughout the world can be accessed via the internet. In addition, CD-ROM data bases are accessible to users both on and off campus via the University computer network and wireless system.
3. Computer and internet services
Computer and internet services at the library of the Faculty of Nursing and the Computer Centre are available to support the advancement of research and training.
4. Accommodations
There are two dormitories on the campus which are run by the Faculty of Nursing. Eighty rooms (twin bed) in both dormitories are available for guests and trainees. A quality bedroom in the dormitories offers a full en-suite facilities (toiletries and towel included), air conditioning, colour TV and refrigerator. There are also university dormitories and off-campus private apartments, condominiums and dormitories. These accommodations are within walking distance of the CRTGWH and the main university campus.
5. Catering
A variety of food is available at the faculty, university dinning halls and in many restaurants within the campus and its surroundings. Prices are reasonable. Alternatively special meals can be arranged on request.
6. Health services
A polyclinic for out-patients and the Srinagarind Hospital for in-patients are located close to the faculty. Srinagarind hospital, the university hospital, is one of the most modern and prestigious hospitals in the country, providing a wide range of services.
7. Banking
Full bank service is offered by two branches of the Siam Commercial Bank, a branch of the Bangkok Bank and Krungthai Bank. All branches are located on the university campus. ATM machines of various banks are also available throughout the university area.
8. Post Office
A post office is located on the campus. Services include selling stamps, sending mail and parcels, registering vehicles, placing international phone calls and sending faxes.
9. Commercial complex
The University Commercial Complex is located within the center of the campus. Services include the University Book Center, The University Co-op store, dining hall, pharmacy, eye glasses shops, banks and ATM machines, photocopy, laundry, convenience stores, a supermarket, and hair dressers and barber shops.
10. Sporting
There are two swimming pools, tennis, badminton and basketball courts, soccer fields, and shooting range available for conference delegates. In addition, fitness suits can be provided, a jogging lane is available and aerobic classes are offered.
Contact Address
Centre for Research and Training on Gender and Women's Health (CRTGWH)
R.6341 Third Floor, Building 6,
Faculty of Nursing, Khon Kaen University, Khon Kaen, Thailand
Phone: +66 43 204168
Fax: + 66 43 2040168, + 66 43 348301
E-mail: siriporn@kku.ac.th
Website: http://nu.kku.ac.th/site/crtgwh