FIU School Of Nursing To Implement Federally Supported Nursing Research Abroad Program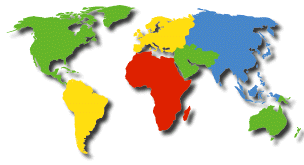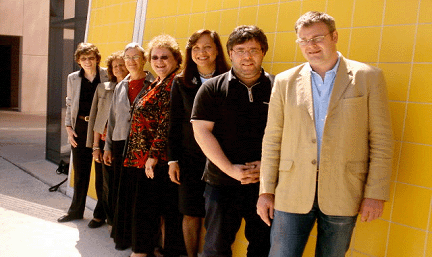 MHIRT Faculty Mentor Team (Left to Right): Dr. Elke Donath, Private University of Witten/ Herdecke (Germany); Dr. Pilar Amay-Rey, National University of Colombia (Colombia); Dr. Marie-Luise Friedemann, FIU SON; Dr. Kathy Anderson, FIU SON; Dean Divina Grossman, FIU SON; Mr. Andreas Buescher, Private University Witten/Herdecke(Germany); Dr. Richard Gray, Institute of Psychiatry (Britain).
FIU Minority Nursing Students To Collaborate With Top Nursing Researchers in Italy, Colombia, England and Germany On Minority Health Disparities Research
MIAMI, FL --- The Florida International University (FIU) School of Nursing (SoN) recently hosted a planning session nursing researchers from universities in Colombia, England, Germany and Italy to implement the School's federally supported "nursing research abroad" program. The program, one of a handful in the nation, aims to attract minority nursing students to pursue careers in nursing research.
FIU SoN faculty members Kathryn Anderson, PhD, RN and Dr. Marie-Luise Friedemann, PhD, RN were awarded a four-year $857,662 grant titled "Training in Chronic Illness Research in Florida and Europe" from the National Institute of Health to implement the Minority Health and Health Disparities International Research Training Program (MHRIT) at the FIU School of Nursing.
The purpose of the MHRIT project is to provide undergraduate and graduate nursing students at FIU who are from minority populations with a specific mentored international research training experience, and the opportunity to become future researchers and advocates for minorities and the underserved in their communities.
An International Team Of Researchers
The grant's seven-member faculty mentor team met at the end of February to establish the recruitment, training, evaluation and overall planning guidelines of the MHRIT program. The mentor team consists of Drs. Anderson and Friedemann, the grant's co-Principal Investigators; Pilar Amaya-Rey, PhD, RN from the National University of Colombia; Andreas Buescher, PhC, RN and Elke Doneth, PhD from the Private University of Witten/Kerdecke (Germany); Richard Gray, PhD, RN from the Institute of Psychiatry, King's College (London, England); and Julita Sansoni, EdD, RN from the University "La Sapienza" of Roma (Italy).
"This project will create an international research collaboration that will focus on cross-cultural research in chronic illness care," said Anderson, the program's director. She continued, "Under the direction and guidance of these accomplished international research mentors, our students will travel abroad to learn and assist in conducting research on a variety of ethnic- and minority-related health care issues in these different countries." Friedemann added, "These international mentors have a rich history of leadership in nursing education and a history of success in mentoring students in research and international exchange."
Global Issues In Minority Health Disparities
The faculty mentor team is committed to exploring patient and family dynamics that influence health disparities, individual and family health, health behaviors, health responses and individual and family quality of life. Among the research topics undertaken during the MHRIT project are:
Examining the impact of breast cancer on couple interaction and relationships (Anderson)
Determining the role of family dynamics in providing care to chronically ill elderly (Friedemann)
Roles of caregiver in resolving grief issues for families coping with Alzheimer's Disease (Sansoni)
How a society's health care structures and financial systems interface and influence cooperation between academia and the health care setting (Donath)

What is the impact of government policies on the experience of family caregiving for a chronically ill family member (Beuscher)
The adjustment of families and family caregivers to stressors of poverty and illness while examining family risk and health dynamics in multi-cultural populations (Amaya-Rey)
The impact of social isolation, medication adherence and smoking intervention on mentally ill populations (Gray)
Anderson concluded, "As a result of this program, our students will gain a unique and invaluable global perspective when it comes to becoming future researchers."
The FIU School of Nursing plans to send 30 minority nursing students (21 undergraduate; 9 graduate) to study at the four partner universities during the program's 4-year run, starting with eight students later this fall. Students will take a preparatory course, which includes content on guidelines for research practice and responsible conduct of research, dissemination of results, career planning, as well as studies of their host country's culture and health care system. In addition, students from the partner universities will be able to do a semester of study with FIU SoN research faculty. The program will continue through Spring 2009.
"Our School and faculty are rapidly gaining a reputation for expertise on health needs of minority and underserved populations and in culturally competent care," remarked Divina Grossman, PhD, RN, ARNP, FAAN, Dean of the FIU School of Nursing. "This grant will enable promising and motivated minority students an opportunity to experience international research training and apply lessons learned in their respective minority communities."
About the FIU College of Nursing and Health Sciences
Established in 1982, the School of Nursing at Florida International University (FIU) is the second-largest producer of nursing professionals in the State, offering undergraduate, graduate, doctoral, baccalaureate completion and specialty programs in nursing education. The School is fully accredited by the National League for Nursing Accrediting Commission (NLNAC), the Florida State Board of Nursing and the Council on Accreditation of Nurse Anesthesia Educational Programs. Based in Miami, Florida, the School of Nursing is a part of Florida International University, a federally designated Hispanic-serving institution which has been recognized by the Carnegie Foundation as a comprehensive Doctoral/Research I Extensive University, and which is ranked among the top 100 public national universities by U.S. News & World Reports.